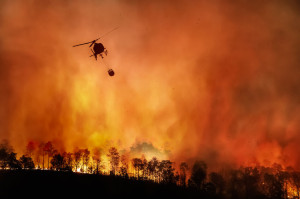 Here at Assured Software, we work with damage restoration and insurance companies. That means our clients' clients themselves are dealing with the aftereffects of a disaster, whether natural or man-made. Because the fact is natural and human-caused disasters affect tens of thousands of people each year all over the world. Major adverse events such as these have the potential to cause catastrophic loss of life and physical destruction. They cause trauma and disrupt lives. Even worse, they are often unexpected and can leave whole communities in shock. Recovery often takes a long and is expensive. That's why we wanted to take some time in today's blog post to discuss the different types of man-made and natural disasters that home and business owners deal with and how to help those impacted by them.
Have a people-first mentality
People who live through a disaster can experience severe emotional distress. Feelings of anxiety, incessant worrying, insomnia, and other depression-like symptoms are common responses to disasters, whether it's before, during, or after the disaster occurs. And while many people are able to bounce back from disasters with help from family, friends, and others within their communities, not everyone is so lucky. Some may need additional support to cope and move forward in life. It's important to remember that anyone can be at risk, including survivors living in the impacted areas and first responders and recovery workers. Post-traumatic stress disorder is a common affliction of both those who live through the disaster and the first responders that assist them.
Examples of natural disasters
Recent natural disasters have left people, animals, islands, and countries devasted by the forces of land, air, and water. Earthquakes in Mexico and hurricanes throughout the United States and the Caribbean have left thousands upon thousands of people without access to clean water, adequate food supplies, medical aid, and more. Heat waves have baked countries in the northern hemisphere, creating epic wildfires and extensive droughts. Rivers are drying up and lakes are shrinking. In many countries, the infrastructure simply cannot handle flooding, heat, and fires of the scale we have been seeing in the past decade.
The flooding in Pakistan earlier in 2022 was epic in scale and magnitude of the disaster. Torrential monsoon rains triggered the most severe flooding in Pakistan's recent history. The flood wound up washing away villages and leaving almost 10 million children in need of immediate, lifesaving support. Humans and livestock were at increased risk of waterborne diseases, drowning, and malnutrition. It was a horrendous disaster.
Examples of man-made disasters
Humans have certainly been responsible for no shortage of disasters. One could say we are living through one now, with the 6th Great Extinction upon us. But at a more micro scale, the Deepwater Horizon oil well disaster was horrible for humans and marine life in the Gulf. 210 million gallons of Brent Crude were released into the Gulf of Mexico in April 2010 and the effects are still with us today. And how about the Montana Asbestos Clouds; have you heard about those?
The story of Libby, Montana, began when settlers arrived and discovered a mineral called Vermiculite. Vermiculite is a very versatile material, used in everything from garden fertilizer to roof insulation and vehicle brake linings. By 1963 this little Montana town was producing 80% of the world's Vermiculite. And while that was great for business, it was not good for people. Vermiculite mining produced massive plumes of asbestos, which is highly carcinogenic and causes cancer.
Here at Assured Software, our hearts go out to all those impacted by natural disasters around the world. Our work puts us in direct contact with companies that work with those impacted by natural disasters. And our mission is to make their job easier, faster, and more cost-effective, which benefits those impacted by a disaster. Are you a damage restoration company looking for a better way to manage contents and track inventory and jobs? Make the switch to Assured Software today.