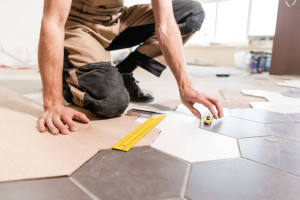 You know that feeling – the one you get when your business has helped a family whose lives were disrupted by a flood, fire or another disaster in their home? Seeing their relief and joy once their home is cleaned and repaired is priceless. While getting to the finished product may be a lot of work – not just in labor, but also the behind-the-scenes paperwork, claims, communication and collaboration – the customer's satisfaction makes all the stress worth it, right?
Now, what if there was a way to still be the hero to your customers without experiencing some of the headaches that come along with managing each restoration job? Imagine having claims, real-time job progress updates, profitability tracking and contacts digitally available at a moment's notice. Talk about a game-changer for your workflow and profitability.
Our Assured JobCheck cloud solution is an affordable, quick-start tool for any size of restoration company to automate task assignments and information sharing in order to manage property loss jobs more efficiently and profitably. Assured JobCheck makes it easy to share photos, record notes and efficiently store and manage job and insurance documentation such as standardized inventory lists added from another of our incredible solutions, Assured PackOut. Our software solutions are built on the Salesforce® Cloud platform to provide an easy-to-use job management tool.
Our software is all about ease of use. We understand restoration companies have a job and need tools, including software, to get those jobs done accurately and efficiently on the go. Here are four ways Assured Software's job management platform can benefit your company:
More efficient project management. Our software is designed specifically for businesses in the restoration industry. With a built-in team communication option in each job feed, everyone working on a restoration job can easily communicate with one another, whether they are in the office, on the road or at the restoration site. Team members who are plugged into the software also have access to the same critical information at the touch of a button – something that simply doesn't happen with traditional paper records and filing. All of this leads to clearer and more manageable processes and more effective communication companywide.
Everyone working on a restoration project is better able to convey details, progress and track critical information like PackOut lists and more. Your business will be able to make sure all essential documents are secure and stored in one place and access contact information with ease from one central hub.
Improved communication. Our job management dashboard can also help you improve communication with everyone working on each restoration project. Assured Software allows for real-time progress and tracking of projects by everyone involved. Mobile apps mean contractors can update records right from their phones. All of this adds up to more effective collaboration and increased speed and quality for your business.
Better record management. Leveraging technology in your restoration business isn't just about storing documents or communicating – it's also about enriched resource management that allows you to easily track, analyze and organize resources. As a result, it is possible to reveal whether the resource usage fits the initial estimates and optimize resource management when required. Moreover, the data can be stored and used to optimize future projects. The adoption of software solutions designed specifically for the restoration industry can also allow you to better track employee performance.
Fewer missed deadlines. Missed deadlines are one of the biggest pain points for companies and one of the biggest reasons projects go over budget. In fact, on average, inefficiencies can equate to projects that take 20% longer to complete and are 80% over budget, according to KPMG. They also tend to decrease customer satisfaction.
Better financial analysis. With Assured Software, you can easily manage multiple projects, effectively tracking deadlines and costs for each. You'll have enhanced profitability tracking, which can help you increase your company's revenues over time.
Want to learn more about our solutions for restoration firms? Visit our website to book a demo: https://www.assuredsoftware.com/