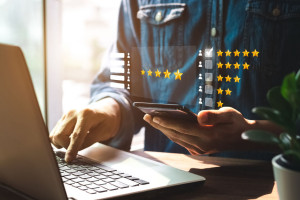 Insurance companies, damage restoration companies and just about any other company type within any industry live and die by customer service. How on-time, effective, and available your customer service efforts are will determine whether your company has real longevity. Excellent customer service is important because it inspires customer loyalty. Even better, it makes your employees' jobs easier and as a result, they are happier. This, in turn, helps businesses grow. By providing great customer service, organizations can recover customer acquisition costs, retain talent, and foster brand loyalty. Burnish your reputation by ensuring your customers sing your praises, even during tough times. Are you effective at customer relationship management?
Good customer service meets customers' expectations, improves satisfaction, and reduces friction. Damage restoration companies deal with individuals and businesses that have just been through a disaster, whatever the type. When you're working with people who have just experienced a traumatic event, providing them with a high level of close-in customer service support can make all the difference in their lives. Also, consider that your customers expect this from you.
What Defines Great Customer Relationship Management for Damage Restoration Companies?
Great customer service meets customers' expectations, improves satisfaction, and reduces heartache, especially after a disaster. And excellent customer relationship management turns a transactional relationship during tough times into a lifelong customer and referral source for new business. We also live in an age where the modern customer no longer simply hopes that brands will provide top-notch customer service – they expect it. And they deserve to.
Damage restoration companies also should understand that their customer's expectations are rising. Consider for a moment that more than 65% of people expect more from customer service than they did three to five years ago. As expectations have risen, companies have been forced to respond. The bar is higher than ever before. Damage restoration companies focused on proper customer relationship management should be well-positioned to meet the expectations of their customer base. Truly service-oriented companies will be poised for growth in the marketplace.
For those companies who fail to provide customers with a superior customer service experience, they'll quickly find their customers shopping the competition. And while there are not thousands of damage restoration companies for them to go to, you can be assured they will find one if you aren't providing industry-leading customer relationship management. In many cases, they will even pay a little more for a similar product if it means receiving an excellent customer service experience. Almost three-quarters of consumers say they have spent more to shop with a company that delivers superior customer service.
Properly Budget for Good Customer Service
Not all damage restoration companies are part of huge national firms. Many are small, family-run businesses. And when you have a small budget for your business, there are probably several high-priority teams to consider when allocating funds. Your customer service team should be one of those teams. Don't let it languish at the bottom of your budget because you've put more focus on other departments.
In the end, you've got to pay close attention to your damage restoration company's customer service outcomes. Customer service is the direct connection between your customers and your business. It retains customers and ensures they will refer you to others if given the opportunity. By providing top-notch customer service, businesses can recoup customer acquisition costs. This helps to cultivate a loyal following that refers to new customers, serves as case studies, and provides testimonials and reviews.
At Assured Software, we specialize in inventory and job management software that helps damage restoration companies create more efficiencies within their operation so that they can focus on more important things, like providing excellent customer service. Contact us today to learn more.