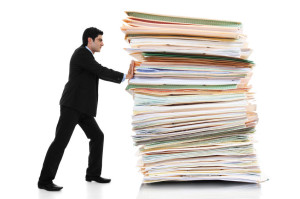 We pride ourselves on creating software that helps make your life easier. Whether you're a disaster restoration expert, insurance professional, or even a moving company — we bring you into the digital age. By helping companies go paperless, we're also doing our part to decrease paper use, which has environmental benefits.
We get it — you're used to doing things a certain way. Well, consider that we're moving into a digital future and there's little any of us can do to stop it. As your industry competitors move into the cloud and increase efficiency, productivity and security, will you be right there with them keeping up? The tools that we offer are designed to help your company keep up with the times. We created them to help you do your job better and run your business easier. They save you both time and money in the long run. And they're also good for the earth.
Did you know that the process of making one ton of paper emits more than 1.5 tons of CO2 equivalent? Switching to our software cuts down on the paper you use, which in turn cuts down on the amount of CO2 generated each year. But how do we do it?
A Closer look at our services
It's great that our software helps your company decrease its carbon footprint, but how does it do it? Let's have a look at each component of our services and how they work.
JobCheck: Are you having problems automating task assignments? Generally, you've probably done this via paper. Restoration company jobs are tough. There are a lot of moving parts. How do you keep your jobs organized? With JobCheck! Based securely in the cloud, JobCheck provides you with a quick and easy way to automate task assignments and streamline information sharing from you to your crew, and back. This is how you save money and time processing property loss jobs.
PackOut: Everyone is always on their phone — it simply can't be denied. No matter your level of the corporate food chain, your smartphone is always there. So, why not use it to make your life easier? Our PackOut mobile app — which is available on both iPad and Android devices — facilitates a quick and easy way to list inventory and content for restoration companies. From returned items to customized reports, you can do it all from the palm of your hand with PackOut. Bonus: It's bundled with JobCheck.
TrackIt: Digging through boxes and using paper and pen to manage your inventory is a nightmare. Managing a big restoration job requires an inventory of varying types and amounts. How do you keep track of it all? With TrackIt, an inventory tracking tool that scans items before they are packed into boxes. You'll know where each item is without having to dig through boxes.
Help us help you reduce paper use
Now that you've learned more about Assured Software, you can probably guess how we help you go paperless. Most old-school damage restoration companies are using spreadsheets. The really old, old-school ones are using file cabinets and paper. Neither of those options should be acceptable for a company operating in the 21st century.
By using your smartphone to check and track inventory, you ensure less paper is used to keep records. By keeping everything neatly organized using cloud-based software built on the industry-leading Salesforce® platform, you save your company time and money and you help decrease your carbon footprint.
Speaking of industry-leading, want to learn more about how our software solutions can level up your back-office operations? Peruse our website ( http://assuredsoftware.social5.net or give us a call at 1-877-277-9933.