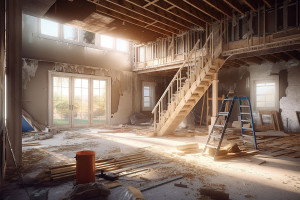 In an industry that revolves around recovery, the home restoration business is often in a constant battle with time. Every minute counts in efforts to restore a space back to its former glory, especially following a fire or flood. For the restoration professionals on the front lines, a lost minute equates to lost dollars, and inefficiency can be devastating.
This is where Assured Software steps in to help you become the hero of this story.
Focused Solutions for a Demanding Industry

Built as a SaaS (Software as a Service) on the Salesforce® Cloud, Assured Software is expertly designed to cater to the intricate demands of disaster restoration contractors, insurance adjusters, and moving companies. Primarily serving the US, with a growing presence in Canada, South Africa, and the UK, Assured Software is acutely aware of the complexities of restoration work.
Assured Software offers three specific tools designed to tackle the industry's most pressing issues:
JobCheck – An affordable, quick-start cloud solution to automate task assignments and streamline information sharing. It's designed to process property loss jobs with high efficiency.
PackOut – A mobile app (available on iPad and Android devices) that assists in listing contents during a restoration process, saving time and reducing human error.
TrackIt – An inventory tracking tool that scans items before they are packed into boxes, ensuring that users always know where each item is, without digging through boxes.
These tools are not mere conveniences; they are game-changers for restoration companies of all sizes.
The Virtue of Simplicity

The standout trait of Assured Software is simplicity. The company deeply understands that restoration professionals have urgent jobs to do, and need tools that are straightforward and reliable. The Assured Software suite enables businesses to execute tasks with precision, without a steep learning curve. In a world of often overly complex software solutions, Assured Software is the reassuring partner, echoing the philosophy that technology should simplify lives, not complicate them.
Securing Assets, Rebuilding Trust

Beyond simplicity, security is another paramount concern. Assured Software emphasizes secure solutions. Considering a scenario where a fire may not destroy a house, but smoke damage mandates the removal, cleaning, and restoration of items, Assured Software's tools shine. Each item's condition is meticulously recorded before removal, with photographs taken as items are placed in boxes, which are then tagged with QR codes. This detailed asset management ensures everything that leaves a home can be tracked and placed back in its rightful position post-restoration, reinforcing trust between the service providers and homeowners.
Empowering the Restoration Community

Assured Software's audience is as diverse as it is specialized. It includes male and female decision-makers, owners, project managers, and administrators, often over the age of 35. These are the people who hold the dual responsibility of restoring spaces and keeping a business afloat. Assured Software empowers them to excel in both domains.
Moreover, Assured Software extends its hand to small businesses, offering them the tools that might otherwise be reserved for larger companies. In doing so, it champions the local businesses that are integral to communities, making them the heroes in their clients' stories.
More than Software: A Partner in Restoration

When restoration companies partner with Assured Software, they are not just purchasing software. They are investing in a service that is backed by an outstanding support team, a reliable partner in the quest for efficiency, accuracy, and, ultimately, service excellence.
This is where Assured Software shines— in its commitment to creating a solution that stands as a steadfast ally to restoration companies. It does more than just organize a chaotic, stressful process; it offers peace of mind. In transforming disarray into order, and loss into recovery, Assured Software proves that the right technology, applied thoughtfully, can indeed restore more than just homes; it can help restore lives.