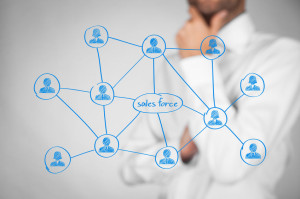 At Assured Software, we work with only the best back-end system to provide database and customer relationship management (CRM) services through our solutions. And that back-end system is Salesforce®. We proudly utilize Salesforce as the backbone of our content management software. But first, let's quickly recap what CRMs are and why they're important.
What are CRMs?
There are several factors to consider when evaluating a CRM. These factors should include:
Total Cost (including add-ons and hidden costs or fees)
Features Offered
Ease of Use
Interoperability
Setup Process
Integrations
CRM systems represent technologies used for managing a company's relationships and interactions with current customers and sales prospects. While different CRMs go about it in different ways, the overarching goal is quite simple: Improve business relationships. And out of this they grow and become more profitable. In the end, what companies use a CRM for is to stay connected to customers, streamline processes and improve profitability.
Back when we were creating a groundbreaking contents management solution for damage restoration companies and insurance claims adjusters, we asked ourselves a critical question: "What CRM will underpin our innovative software?" After much due diligence and careful study, we decided the most secure and effective option would be Salesforce. But why did we come to this conclusion?
Why is Salesforce the #1 CRM?
Have you heard? Salesforce was rated Best CRM for Small Businesses in 2022! This is no small feat, as the competition in this category is quite fierce. However, several factors set Salesforce apart from the competition. First, it's important to consider that Salesforce has the largest selection of targeted CRM products and customizable solutions to fit any business in any industry. And when we say largest, it's true. The variety Salesforce offers is unmatched in the industry.
When it comes to CRM providers, Salesforce is known as an industry leader and offers a popular essentials-level platform that's ideal for small and growing businesses. For those ready to level up and delve more deeply into CRM capabilities, Salesforce offers a vast set of tailor-made solutions for sales, marketing and customer service teams.
The fact is this: When it comes to CRM providers, Salesforce is in a league of its own. Businesses around the world know Salesforce as an industry leader in the CRM and database management spaces. Their popular essentials-level platform is ideal for small and growing businesses. And for those who want to go further, Salesforce is more than just a CRM. Its CRM for sales is just one of the seven product categories. Other products involve solutions for marketing, service, cloud-based app development, community/partner management, AI and analytics and also IoT.
How Salesforce and Assured Software come together
Now, you are probably reading this thinking, "Am I working with Salesforce or am I working with Assured Software?" Well, the answer is both. The Salesforce platform is an enterprise platform-as-a-service (PaaS) solution that allows developers to build, test, and resolve defects in cloud applications before deployment. The primary function of a Salesforce app is to manage customer data. Salesforce apps provide a simple user interface (UI) to access customer records stored in objects (tables).
At Assured Software, we essentially built our solutions to utilize Salesforce as the methodology for managing customer data. In this case, the data just happens to be contents information for damage restoration companies or insurance claims adjusters. On the front end you, our user, are using technology built by Assured Software. But on the back end, or under the hood, much of how the information is handled and delivered is fulfilled in the Salesforce environment.
Are you ready to create greater efficiencies and realize the true potential of Assured Software technology? Schedule a demo today and learn more about the innovation at work with Assured Software solutions!